Scholarships
GIST University Scholarship 2024 |Fully Funded in South Korea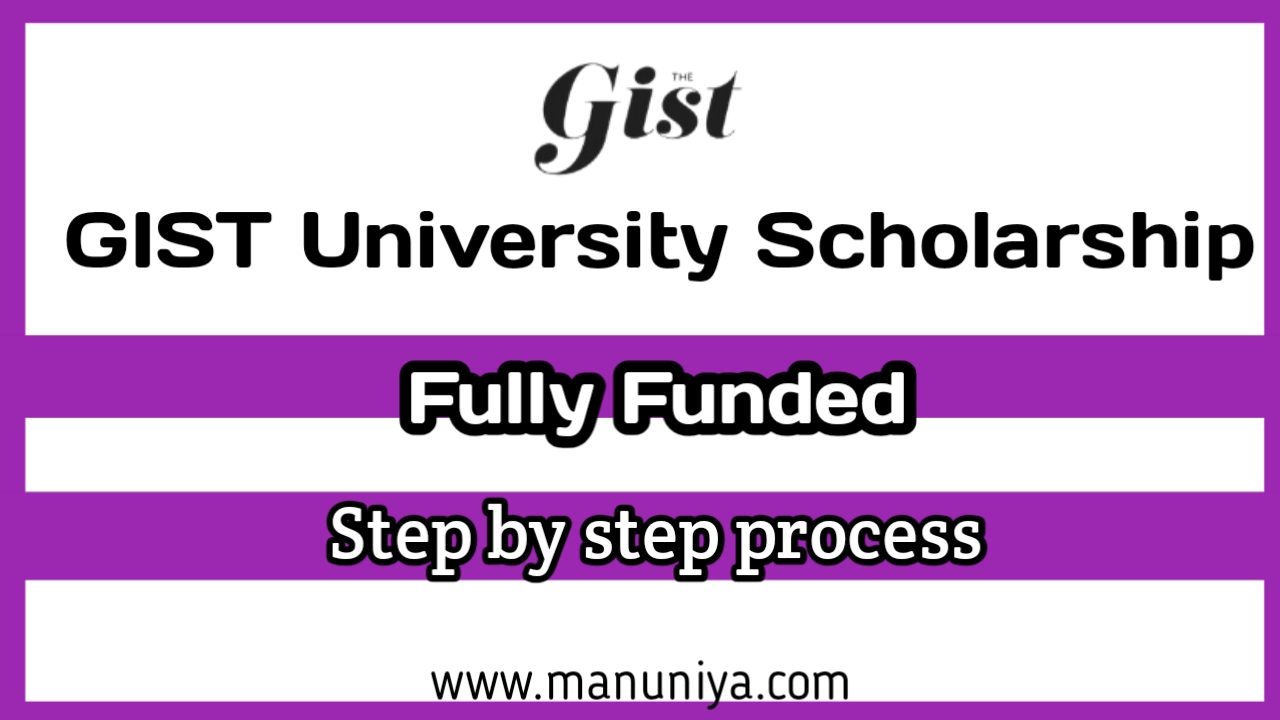 Applications are invited to apply for the GIST International Scholarships 2023-24 in South Korea. One of the Prestigious University. All International Students from any part of the world are eligible to apply for Gwangju Institute of Science and Technology Scholarship 2024/ GIST is offering Masters Degree Scholarships, Doctoral Degree Scholarships and Masters leading to PhD Scholarships for all students.
Scholarships Summary
Host Country: South Korea
Host University: GIST University
Lavel of Study: Masters, PhD, MS to PhD
Financial Coverage: Fully Funded
Who Can Apply: Every Countries
Deadline: Open All Years
Courses Offered
Students can apply in one of the following study field under GIST Scholarship program.
Department of Chemistry
School of Integrated Technology
School of Earth Sciences and Environmental Engineering
Department of Physics and Photon Science
School of Electrical Engineering and Computer Science
School of Materials Science and Engineering
School of Mechanical Engineering
School of Life Science
Department of Biomedical Science and Engineering
Artificial Intelligence Graduate School.
Eligibility Criteria For GIST University Scholarship 2024.
To be eligible to apply for GIST Scholarship, candidates have to meet the following criteria:
Students with any nationality from any part of the world are eligible to apply.
To apply for Masters Degree Scholarship, applicants must hold an Undergraduate Degree.
To apply for Doctoral Degree Scholarship, You must hold a Master's Degree.
Document Requirements for GIST University Scholarship 2024.
To apply for GIST International Scholarships 2023-24 in South Korea, applicants have to submit these documents. No need to send these document by post. You can Email them to university directly.
Statement on Application Documents Submission (Form1)
Certificate of Bachelor's Degree or Bachelor's Diploma
Bachelor's Degree Transcript
Certificate of Master's Degree or Master's Diploma
Master's Degree Transcript
Two letters of Recommendation (Form2)
Certificate of valid English Proficiency Test
Applicant's Passport Copy
Letter of Recommendation for Matriculation Fee Waiver (Form3) (Optional)
Certificate of English Proficiency issued by your home university
Financial Benefits GIST University Scholarship 2024.
GIST International Scholarships 2023-24 in South Korea is a Full Free Scholarships for International Students to pursue masters or PhD degree from Korea number 1 university. The award will cover all the expenses to complete your degree. Detail is given below:
Complete Tuition Fee: 3,415,000 won per semester
Monthly Stipends:
Masters Degree: 140,000 won per month
PhD Degree: 295,000 won per month
Research Assistantship (All students participating in research projects):
4,820,000 won per year of MS
11,480,000 won per year of PhD
Health Insurance (All International Students)
60% of the Korean National Health Insurance fee is supported.
Annual Medical checkup
Flight Reimbursement (All Incoming International Students)
Reimbursement for a one-way flight to Korea
How to Apply for GIST University Scholarship 2024.
There is an Online Application Form to apply for GIST International Scholarships 2023-24 in South Korea. Complete an Online Form, Upload, or Email the Required Documents as listed above. Visit the given below link for more details about the GIST Scholarship and application procedure:
Click to Apply
👇👇👇