Education
Kano State Polytechnic Release ND & HND Admission Form 2023/2024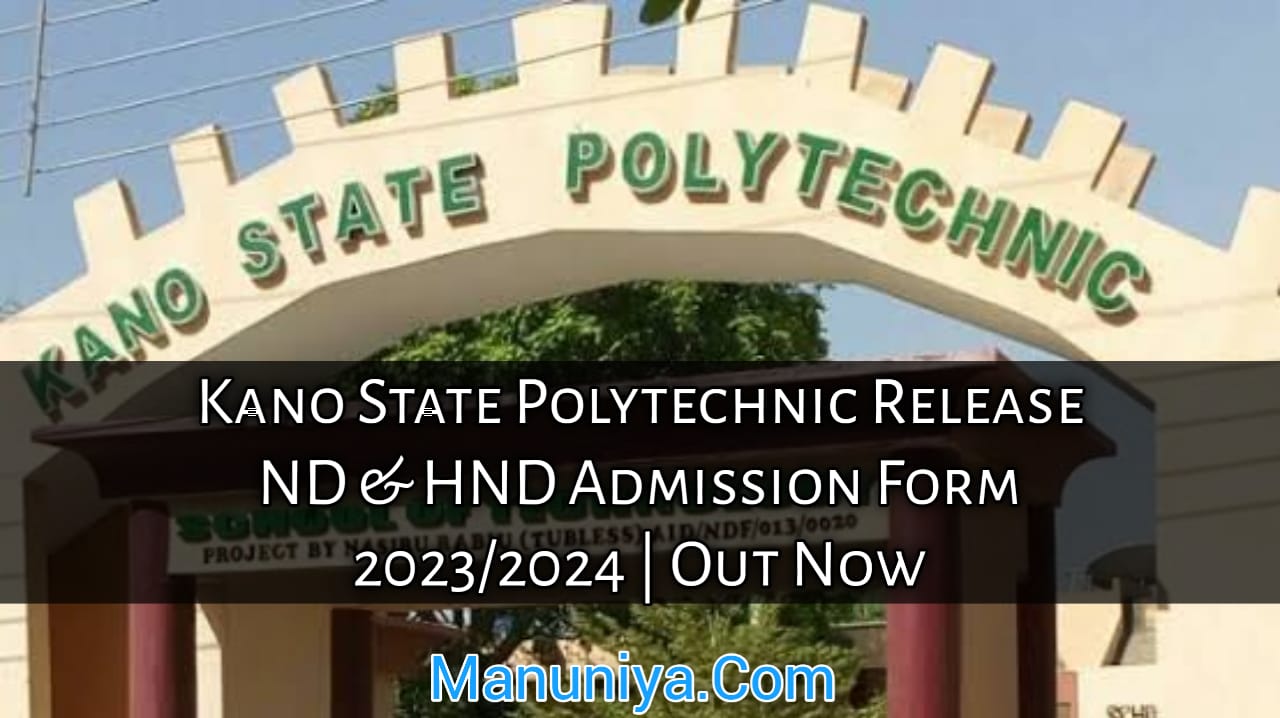 The Management of Kano State Polytechnic wishes to inform the General Public that the Online Application for admission into its Full time programmes for the 2023/2024 Academic Session is set to commences on September, 2023. Interested applicants are to access the application portal at KANO STATE POLYTECHNIC
All applicants seeking admission into the National Diploma "ND" or National Certificate of Education Technical "NCE Technical" must sat for the 2023 UTME and choose Kano State Polytechnic as their First choice. Those who have applied to other Institutions and wish to change to Kano State Polytechnic should go for the JAMB Green Card option at the designated CBT Centers. While applicants for Higher National Diploma "HND" must upload their A'Level results during the application.
The following Programmes are available at various schools of the Institution with their respective JAMB cut-off mark
Courses Offered For SCHOOL OF TECHNOLOG (SOT)
ND PROGRAMMES
ND Art & Industrial Design 100
ND Civil Engineering Tech-120
ND Computer Engineering Tech.-120
ND Computer Science-140
ND Elect Electron Engr. Tech-120
ND Hospitality Mgt. Tech-100
ND Mechanical Engineering Tech-100
ND Pharmaceutical Tech-140
ND Printing Technology-100
ND Science Laboratory Tech-140
ND Statistic-100
ND Textile Technology-120
ND Fashion Desigs & Clothing Tech-120
ND Welding & Fabrication Tech – 100
ND Mechatronics Engineering Tech – 120
ND Tour Management-100.
HIND PROGRAMMES:
HND Art & Industrial Design (Ceramics Tech)
HND ART & Industrial design (Graphics Design)
HND Art & Industrial Design (Painting)
HND Art & Industrial Design (Textile Design)
HND Computer Science
HND Electrical Electronics Engineering (Telecoms Electronics)
HND Electrical Electronics Engineer- ing (Power)
HND Mechanical Engineering Technology (Phat Power)
HND Pharmaceutical Technology
HND Printing Technology
HND Science Laboratory Technology (Physics/Electronic
HND Science Laboratory Technology(Chemistry)
HND Science Laboratory Technology(Biochemistry)
HND Science Laboratory Technology (Biology Microbiology)
HND Statistics
HND Hospitality Management
Courses Offered For SCHOOL OF MANAGEMENT STUDIES (SMS)
ND PROGRAMMES
ND Accountancy-110
ND Banking & Finance—100
ND Business Admin. & Mngt, 140
ND Cooperative Economics & Mngt – 100
ND Marketing 100
ND Public Administration-140
ND Procurement, Supply & Chain Magt, 100
ND Office Technology & Manage ment-100
HND PROGRAMMES
HND Accountancy
HND Banking & Finance
HND Business Administration & Management
HIND Cooperative Economics & Management
HND Marketing
HND Public Administration HND Procurement, Supply & Chain Management
HND Office Technology & Management
Courses Offered For SCHOOL OF RURAL TECHNOLOGY AND ENTREPRENEURSHIP DEVELOPMENT, RANO
ND PROGRAMMES
ND Business Administration-100
ND-Local Government Studies 100
ND Social Development-100
ND Home & Rural Economic-100
HND PROGRAMMES
HND Business Administration
HND Local Government Studies
HND Social Development
HND Community Development & Adult Edu
Courses Offered For SCHOOL OF ENVIRONMENTAL STUDIES (SES), GWARZO
ND PROGRAMMES
ND Architectural Techslog – 110
ND Building Technology–100
ND Estate Management-100
ND Surveying & Geo Informatics-100
ND Quality Surveying -100
ND Urbans & Regional Planning -100
HND PROGRAMMES
HND Architectural Technology
HND Building Technology
HND Quantity Surveying
Courses Offered For SCHOOL OF GENERAL STUDIES (SGN)
ND PROGRAMMES
ND Mass communication-140
ND Library & Information Sci-110