E-News
Essence of prayer and work in government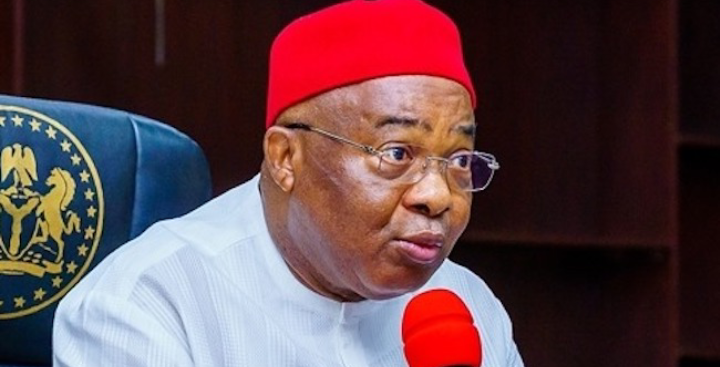 At the second annual 'Imo Prays' held in Owerri recently, Hope Uzodinma, governor of Imo State is quoted in the press to urge the people to pray so God will ''arrest and expose all those involved in the dastardly act (of insecurity) no matter who they are and where they are.'' In view of the high level of criminality in his jurisdiction, the sense of helplessness and frustration may, understandably, have motivated this governor to take his case to Higher Powers.
The governor also urged the church to be steadfast in prayer as the instruments of war used by the enemies of the people to kill and destroy cannot be compared with the strength of God Almighty who protects His people in times of difficulties. The governor recalled that in the 2021 prayer session tagged "Imo Pray," most of the hoodlums who burnt and released criminal inmates at the Owerri Correctional Centre, were arrested and hoped that "this year's session will yield a better result."
He said the church is a partner in the search for solution to problems and challenges of the society, noting that as a body known for peace making, the children of God have always been used to establish peace in Imo State.
Uzodinma, therefore, called on the church not to relent in their prayers because the "enemies are not relenting either." He emphasised that "prayer is the only potent weapon to overcome the enemies, the problems and challenges facing us as a people and the state in general," adding that "the relative peace Imo State is experiencing currently is brought about by God's intervention."
At times like these when the security and welfare of Nigerians are at unprecedented risk, hardly will anyone disagree with the admonition to pray. Indeed it is human nature to take challenges that seem beyond man to a higher power namely God for intervention and relief. It is to this end, obviously, that Uzodinma has, through the 'Imo Prays' project, appropriately pressed into service the church and entire population of Imo State. Very well.
The act of praying for the country is not new; former Head of State, General Yakubu Gowon started 'Nigeria Prays' in 1996 in response to 'the problems plaguing us' then. It is a project that continues to date arguably because the problems (especially of leadership) that plague the country have not been overcome, indeed they have worsened.
Notwithstanding the widely accepted omniscience, omnipresence and the omnipotence of God, it is reasonable to argue that he also grants authority and power to man to do what he individually ought for the common peace, stability and happiness.
Furthermore, persons like Uzodinma who are in leadership position and armed with authority and power to affect lives for good or for ill, are especially enjoined to do even more than anyone else in the polity to sustain the common good. In the specific context of the 1999 Constitution of the Federal Republic of Nigeria, the governor, as chief executive of Imo State, is obligated to, as a 'primary purpose of [his] government' ensures 'the security and welfare of [his] people. How well Uzodinma's government is fulfilling this constitutional obligation to the state is very much in doubt.
To recourse to fervent prayer is one thing but to act in manners that make the prayer answerable is also a necessity. The Holy Book is clear that the fervent prayer of the righteous avails much. But the praying man must be 'righteous'; this is a fundamental proviso for answered prayer. Gowon's 'Nigeria Prays' and Uzodinma's 'Imo Prays' have antecedents in other cultures. The Jewish 'Day of Atonement' is, according to Wikipedia, ''primarily centred on atonement and repentance, consisting of full fasting and ascetic behaviour, accompanied by intensive prayer as well as sin confessions.'' Put differently, personal and communal righteousness is the peg upon which fervent prayer must be hung to be effective.
President Muhammadu Buhari once resigned the case of Nigeria's porous borders to God. He was reported to say that ''we have 1,400 kilometers of border with Niger Republic, which can only be effectively supervised by God.'' This should not be so. Arguably, Nigeria's land border is not the widest in the world; other countries are not so overwhelmed as to leave surveillance of their territory merely to God and Nigeria should not be an exception.
It is trite to say, however, that God will not do for man what God has equipped him to achieve, No. He is not a factotum to be pressed into service anyhow. He will only intervene in matters that are beyond human capacity. The governor of Imo State must think harder and deeper genuinely introspect on why his state is so insecure despite the measures he is reported to put in place.
Those who willfully seek and are genuinely, in true reflection of the people's will, elected into high office must know that they, not God, have been given a job to do as defined in the constitution. There is nothing else but to simply get on with the job they are on oath to perform. The constitution is reasonably clear on the role, duty, and deliverables of a government headed by a president and a governor. They and other holders of public office are even put under oath that, on their honour, and with God as witness, they offer to serve in accordance with the provisions of the Constitution and the best interest of the people.
Uzodinma and the people of Imo State should pray to God; but every man must also do what he ought, and in righteousness too. And all shall be well with the state. To achieve desire purpose, prayer must go with (good) work. Similarly, all governments of the federation, including the Federal Government, can embrace the Imo State template of prayers; but they must not abdicate their physical responsibility to protect lives and property of Nigerians. That is their paramount duty. And, as it is said, heaven helps those who help themselves.