Education
List Of Courses Offered At Abubakar Tafawa Balewa University Bauchi (ATBU)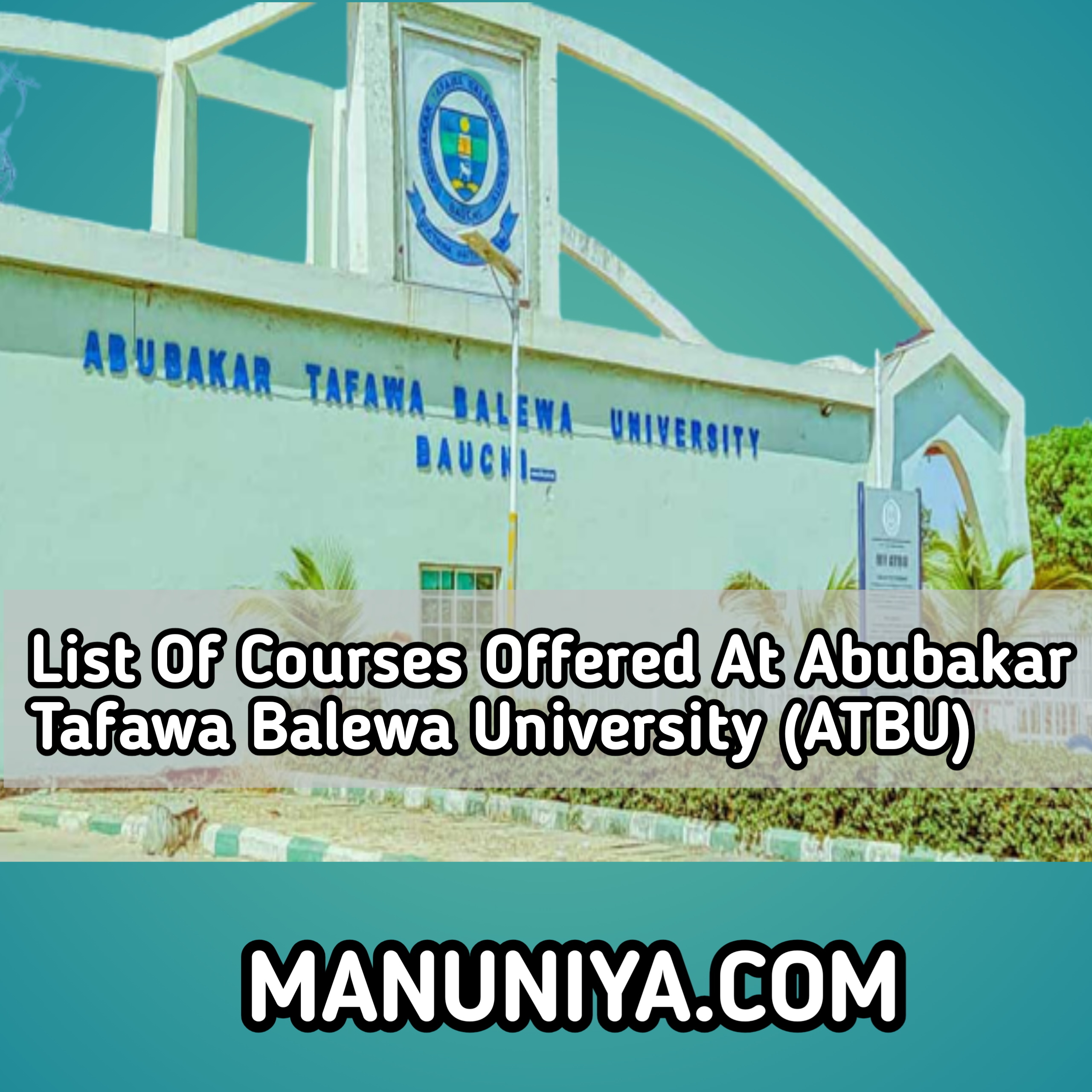 Abubakar Tafawa Balewa University (ATBU) is a federal university of technology located in Bauchi, north east Nigeria. The university is named after the first and only Prime Minister of the Federal Republic of Nigeria, Sir Abubakar Tafawa Balewa. The motto of the university is "Doctrina Mater Artium", which means "Education is the mother of the practical arts".
The university was established in 1980 as the Federal University of Technology, Bauchi. The institution's first students were admitted in October 1981 for pre-degree and remedial programmes while the degree courses of the School of Science and Science Education began in October 1982. On 1 October 1984, the university was merged with Ahmadu Bello University, Zaria, Nigeria with a change of name to Abubakar Tafawa Balewa College, Ahmadu Bello University, Bauchi campus.
Do you want to find out the list of courses you can study at Abubakar Tafawa Balewa University (ATBU)? Below is the list of high-quality courses on offer at Abubakar Tafawa Balewa University.
| | |
| --- | --- |
| S/N | COURSES OFFERED |
| 1 | AGRIC-ECONOMICS AND EXTENSION |
| 2 | AGRICULTURAL ENGINEERING |
| 3 | AGRICULTURAL SCIENCE AND EDUCATION |
| 4 | AGRICULTURE |
| 5 | ANIMAL PRODUCTION |
| 6 | APPLIED BOTANY |
| 7 | APPLIED ECOLOGY |
| 8 | APPLIED GEOLOGY |
| 9 | APPLIED ZOOLOGY |
| 10 | ARCHITECTURE |
| 11 | AUTOMOBILE ENGINEERING |
| 12 | AUTOMOBILE TECHNOLOGY AND EDUCATION |
| 13 | BANKING AND FINANCE |
| 14 | BIOCHEMISTRY |
| 15 | BUILDING TECHNOLOGY |
| 16 | BUILDING TECHNOLOGY EDUCATION |
| 17 | BUSINESS EDUCATION |
| 18 | CHEMICAL ENGINEERING |
| 19 | CHEMISTRY |
| 20 | CIVIL ENGINEERING |
| 21 | COMPUTER AND COMMUNICATION ENGINEERING |
| 22 | COMPUTER SCIENCE |
| 23 | CROP PRODUCTION |
| 24 | ECOLOGY |
| 25 | EDUCATION AND BIOLOGY |
| 26 | EDUCATION AND CHEMISTRY |
| 27 | EDUCATION AND COMPUTER SCIENCE |
| 28 | EDUCATION AND INTEGRATED SCIENCE |
| 29 | EDUCATION AND MATHEMATICS |
| 30 | EDUCATION AND PHYSICS |
| 31 | EDUCATION AND SCIENCE |
| 32 | ELECTRICAL / ELECTRONICS EDUCATION |
| 33 | ELECTRICAL / ELECTRONIC ENGINEERING |
| 34 | ENVIRONMENTAL MANAGEMENT AND TECHNOLOGY |
| 35 | ESTATE MANAGEMENT |
| 36 | GEOPHYSICS |
| 37 | INDUSTRIAL CHEMISTRY |
| 38 | INDUSTRIAL DESIGN |
| 39 | INFORMATION TECHNOLOGY |
| 40 | LIBRARY AND INFORMATION SCIENCE |
| 41 | LIBRARY AND INFORMATION SCIENCE |
| 42 | MANAGEMENT TECHNOLOGY |
| 43 | MATHEMATICS |
| 44 | MECHANICAL ENGINEERING |
| 45 | MECHANICAL/PRODUCTION ENGINEERING |
| 46 | MECHATRONICS AND SYSTEM ENGINEERING |
| 47 | MEDICINE AND SURGERY |
| 48 | METALWORK TECHNOLOGY EDUCATION |
| 49 | MICROBIOLOGY |
| 50 | PETROCHEMICAL ENGINEERING |
| 51 | PETROLEUM ENGINEERING |
| 52 | PHYSICS AND APPLIED PHYSICS |
| 53 | QUANTITY SURVEYING |
| 54 | SECRETARIAL EDUCATION |
| 55 | STATISTICS |
| 56 | SURVEYING AND GEOINFORMATICS |
| 57 | URBAN AND REGIONAL PLANNING |
| 58 | WOODWORK EDUCATION |
| 59 | WOODWORK TECHNOLOGY EDUCATION |