E-News
Tinubu hits Bayelsa Thursday for mega rally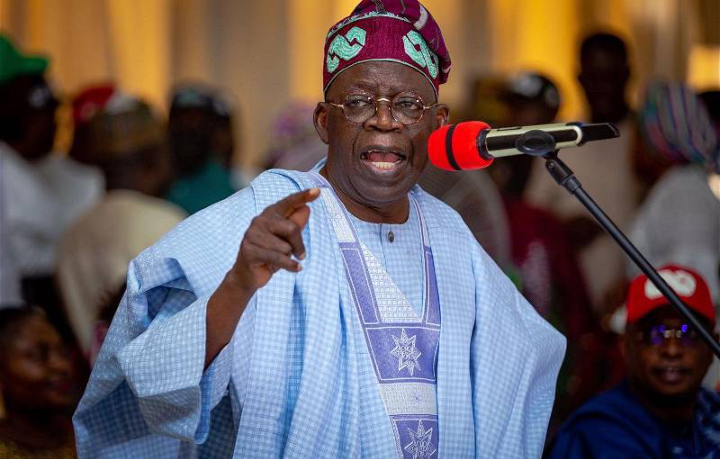 The Presidential Campaign Council of the All Progressives Congress (APC) will stage a mega rally in Bayelsa State ‪on Thursday, December 1‬.
The Yenagoa rally is in continuation of Asiwaju Bola Tinubu's campaign trail around the country to gather support for his 2023 presidential bid.
A statement issued by Doifie Buokoribo, Bayelsa State Publicity Secretary, APC on Wednesday said on arrival in the state, Tinubu, his running mate, Senator Kashim Shettima, and the entire team would begin the campaign visit with a courtesy call on the Bayelsa State Traditional Rulers Council.
"From there, they would proceed to the Oxbow Lake venue of the rally, where Tinubu and other leaders of the party would address the Bayelsa public on APC's 2023 agenda for the country," he said.
Buokoribo, said necessary arrangements had been made to receive the national campaign team and ensure a successful rally.
"We call on all Bayelsans and residents of the Ijaw heartland to come out en masse to welcome the APC presidential candidate, the Jagaban, under an atmosphere of peace, in the time-honoured tradition of Ijaw hospitality," Buokoribo stated.
He added, "APC in Bayelsa State has since intensified our mobilisation drive to sensitise our people on the urgency of joining this winning train captained by Tinubu. The result has been tremendous and, God willing, we will be victorious."
Bayelsa State Coordinator of the Tinubu/Shettima 2023 APC Presidential Campaign Council, and Minister of State for Petroleum Resources, Chief Timipre Sylva, said, "The prize we expect at the end of the day is victory in next year's presidential election, nothing less. By God's grace, we will win."
Sylva said the ruling party had in Tinubu a skilled and knowledgeable standard-bearer it can always depend on for victory at the poll.
The APC Leader in the state added, "With Asiwaju Bola Tinubu, an experienced and indefatigable rallying point for progressive politics, carrying the flag of our great party, All Progressives Congress (APC), into the presidential election next year, I think we are on yet another bold march to a resounding victory.
"Tinubu has always been the standard-bearer of the campaign for development and transformational politics, which APC epitomises.
"We pledge that you've got our back always as you seek to take your rich wealth of experience to the national level, and take further the legacy of President Muhammadu Buhari."
Sylva also stated, "In our particular experience in Bayelsa State APC, Tinubu has been a dependable ally, who has stayed with us through thick and thin.
"We are confident that with you, we are home and dry."
Sylva called on Nigerians from all walks of life, "Across faiths and cultures," to support Tinubu. "This is a Nigerian Project, let us come together to make it happen," Sylva stated